The NFT landscape has shifted towards utility-based projects during the bear market of the past year. Here's why this may be good for the sector.
New NFT Project Mints Have Shifted Away From Speculation In The Past Year
According to a report released by Ark Invest, the NFT market has gone through a shift in the bear market. For tracking how the sector has been changing, the report has used the data for the NFT mints taking place in each quarter of the year.
The share of the total mints contributed by each of the different project types is considered here. The "project types" are made up of art, avatar, collectibles, gaming, utility, and virtual worlds.
Here is a chart that shows how the percentage dominance of each of these project types has changed over the last few years:
Looks like utility took over during 2022 | Source: Ark's Big Ideas 2023
As shown in the above graph, way back at the start of 2019, the NFT market was mostly made up of collectibles and gaming-focused projects. Utility-based tokens took the lead around the end of the year, but it wasn't long before their dominance fell again.
2020 saw collectibles no longer making much of the total percentage of the NFT mints, while utility and gaming remained strong. Art-based tokens also started becoming popular in 2020.
Collectibles made a huge comeback in 2021 as the wider cryptocurrency market saw a bull run. Gaming projects, however, saw a pretty low percentage of the mints during this period.
As the bear market then took hold in 2022, all the project types, including collectibles, saw shrinking dominance, with one NFT type picking up all the market share: utility.
Utility-based projects are those that generally have some inherent value attached to them, unlike things like collectibles whose prices are mostly driven by speculation. Examples of the kind of projects that would fall under this category include ticket tokens, on-chain domain names, and digital memberships.
The fact that the market is now focusing more on utility NFTs that have some underlying value can be a healthy development for the sector, according to the report. In this way, the bear period killing interest around speculation-based projects may be a boon in disguise for the market.
In terms of the trading volume, however, the NFT sector was still very much dominated by existing high-profile collectibles like Crypto Punks and Bored Ape Yacht Clubs. The "trading volume" here refers to the total amount of transactions that these tokens have been observing.
The below chart shows how the volume dominance of the different project types has changed over the years.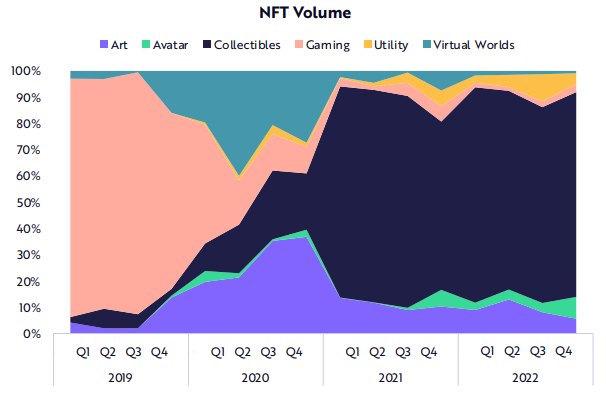 The collectibles seem to have occupied the largest volume percentage during the past couple of years | Source: Ark's Big Ideas 2023
BTC Price
At the time of writing, Bitcoin is trading around $23,800, up 3% in the last week.

BTC has surged today | Source: BTCUSD on TradingView
Featured image from Andrey Metelev on Unsplash.com, charts from TradingView.com, Ark Invest